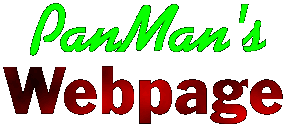 - - - - -
Best Viewed Through...

3.0
PanMan's
CHAT!
HERE!!!
Come in to "PanMansion" and have a Chat!..In this fully functional HTML Chat Room!


If You Have Found Any Bugs, Or If You Know Of Any Items That Could Go On My Web Page... PLEASE Feel Free To E-MAIL Me As To Where I Can Find It Etc.


Hello and Welcome to my humble domain...
Within the pages of this Website, you will find information which is both interesting and useful. This is my first Webpage and I am quite proud of it! Be warned...some items that are labelled "Updated Weekly" may actually turn into Monthly or Yearly as I am at College alot and have a Life To Lead!

. . . . PanMan


PanMan's E-Mail Ad's !!!

A Classifieds section on a WebPage...
Here things are Advertised, Bought & Sold. You can Add your own Article for...



Just click on the NewsPaper and you're there!



The Ultimate Interactive Story!
The Ongoing saga of a Town and it's occupants, Teenagers, Evil beings...
The Entire story is written by...
YOU!
Net Surfers that read what's happened so far...
and then contribute their version of what should "Happen Next!"
Click HERE To the Net Story!




Cookie's Saying Of The Week!
"Purple Glass Is Good To Eat!"
JOKES ! ! !
I now have a good selection of Jokes! They are in different catagories, so simply pick which catagory you want and off you go! Catagories range from Blondes to Lightbulb Jokes!....I can guarantee you that they are funny and worth a read!!!
WARNING :
Some of these Jokes may contain offensive Language...
Bring It Back!!!
Remember the 80's ? Well...for those who remember Duran Duran, Thunderbirds, He-Man, and anything else that died in the 80's (Bet I get hate mail from saying Duran Duran!) This area has an 80's article each Month!

This Months article is...
Dungeons & Dragons
Who here remembers Dungeons & Dragons! I DO!...I Loved that show!...I thought it had good characters and was generally a great kids program. Remember the Kids involved? Hank, Eric, Bobby, Sheila, and um...forgot the other one (E-Mail me if U remember)...Then there was Uni, Venger!!!, Shadow Demon and of course....Dungeon Master.
There is one episode that you may remember and for some reason I have ended up seeing it about a thousand times...."The Eye Of The Beholder"...Big purple wierd thingy has turned the land to ruin and a cowardly night (Sir John) ends up saving the town....it was OK...
So...may be you do remember it...or may be you have no idea what I just babled on about...but it WAS a kewl program...I survived Childhood watching it!!
Dungeons & Dragons , I Still remember YOU! :-)
Please Send Me Your Views!
This Webpage is © Paul Nicholas (PanMan) 1997 The graphics from this website may be 'Nicked', seeing as I did! However, if I you get bollocked for having them on your computer, Please dont say you got it from me, or I'll send the Boyz 'round!